The Ukiah Photography Club's theme for February 2022 is "something important in your life". Hmm . . . . My family, obviously, but they are camera-shy or unavailable. The cats? No,  I mostly tolerate them. Baseball? Nothing happening there. Jazz? Perfect, but I have only one decent photo of Pat Metheny and no opportunity for more. So it has to be . . .  photography. But how do you photograph photography? Another hmm . . . . My cameras! Not all of them, just the ones for which I have a special connection. I can rephotograph them with a different light source - a ringflash rather than the modeling lights I used previously. Background - white mat board and white wall (can I make it look seamless?). Camera? Not much choice there (not going film on this one) - Fuji X-Pro2 with the 90mm lens, stopped down to f16 to maximize depth-of-field. This is a good opportunity to refine my research on each of these cameras and to crystalize why they are important to me.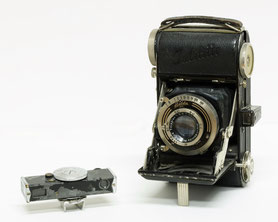 Balda Jubilette - made in 1938 in Dresden, Germany; 50mm triplet Meyer Görlitz uncoated lens (Serial No. 825604); f2.9 to f16; Compur leaf shutter (Serial No. 3579127) made in 1935 or 1936; 1 to 1/300 sec plus B and T; minimum focus 5 feet; left-hand shutter button; 35mm film; no double exposure prevention; auxiliary non-coupled range finder.
This was my father's camera (probably acquired used late 1940's or early 1950's). He took hundred's of rolls of color slides of the family during the 1950's and 1960's, usually on vacations.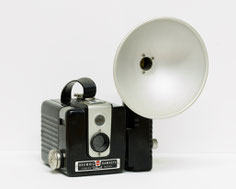 Kodak Brownie Hawkeye Flash with Kodalite Flashholder - made in the early 1950's in Rochester, NY; 620 film; 1 element uncoated 81mm miniscus lens; approximately 1/40 sec plus B; aperture fixed at f15; fixed focus 5 feet to infinity; no double exposure prevention.
This was my mother's camera. She took all the birthday party photos.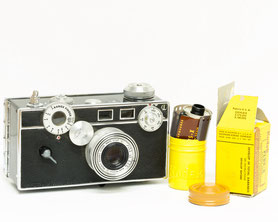 Argus C-3 ("The Brick") - made in 1949 in Ann Arbor, MI; 3 element coated 50mm Argus Cintar (additional lenses could be interchanged); three-blade leaf shutter; 1/10 to 1/300 sec plus B; f3.5 to f16 continuously adjustable; coupled rangefinder (separate viewing window) 3.5 feet to infinity; 35mm film; no double exposure prevention.
This camera belonged to my father-in-law and is the source of most of the pictures of my wife when she was little. The film is an unused roll of Kodak Plus-X (film speed: "fast") dated 1953, the year of her birth.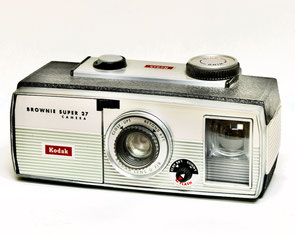 Kodak Brownie Super 27 - made from 1961 to 1965 in Rochester, NY; three element plastic uncoated Kodar lens; f8 and f13.5; 1/40 and 1/80 sec; two focus ranges: 3.5 to 6 feet and greater than 6 feet; 127 film; flash: AG1 bulbs; battery: 2 AA cells (for flash only).
Here we have my first camera . . . well, not this one, exactly - mine disappeared decades ago so I picked up one at a garage sale. The original was a Christmas gift when I was in eighth grade. I thought the pop-open flash door was so cool.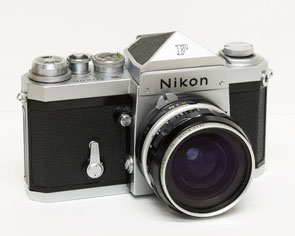 Nikon F with Nikkor-H 28mm lens; camera (Serial No. 6840319) made in 1967, lens (Serial No. 320472) made 1961 or 1962, both in Japan; 35mm film; titanium-foil focal plane shutter; 1 to 1/1000 sec plus B and T; f3.5 to f16 in full stops; self-timer; depth-of-field preview; mirror lock-up; interchangeable prism and focus screen; unmetered.
The first SLR I ever used was identical to this one, borrowed from a friend in high school, although it probably had a 50mm lens. When I acquired this camera many years later I immediately recognized the "clunk" instead of the typical "clank" of other SLRs.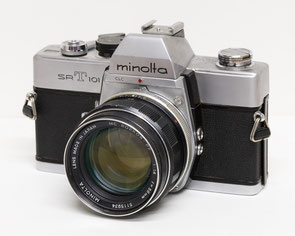 Minolta SRT-101 with 58mm Minolta MC Rokkor-PF lens; camera (Serial No. 1309774) and lens (Serial No. 5115934) made in Japan and purchased new in 1968; full-aperture TTL match-needle metering; cloth focal plane shutter; 1 to 1/1000 sec plus B; f1.4 to f16 in half stops; self-timer; mirror lockup; depth-of-field preview; PX625 mercury battery for metering only - no longer available, requiring alternate battery with exposure adjustment.
My first real camera! I bought it direct from Japan along with a Minolta MC Rokkor f2.8 135mm lens (which I apparently no longer have) for something like $200 for the whole package - a LOT of money at the time. I had narrowed it down to the Minolta or a Pentax Spotmatic, which (I didn't fully understand this at the time) had step-down metering - so I made the right choice. This locked me into the Minolta ecosystem for the next several cameras and lenses.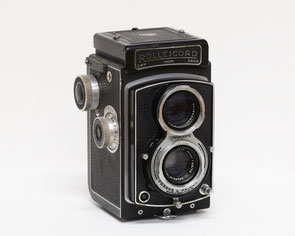 Rolliecord III - made in Braunschweig, West Germany; purchased new in Indonesia in 1953 by Hans; 75mm Schneider-Kreuznach Xenar triplet lens (Serial No. 3356616), accompanied by  75mm Heidoscop-Anastigmat viewing lens (Serial No. 266821); Compur-Rapid X/CR001 leaf shutter; 1 to 1/250 sec plus B; f3.5 - f22; 120 film; reversed image.
This was a gift from Hans (I had just met him). Along with a borrowed Yashica Mat EM, it was my introduction to medium format.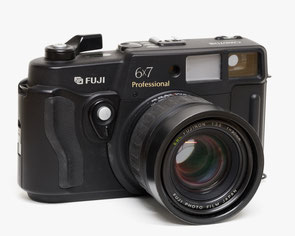 Fuji GW670III ("Texas Leica") - this model was made in Japan from 1992 through ???; I bought mine new sometime in the mid-1990's; fixed lens medium format rangefinder; 10 6x7 cm images on 120 film (provision for 5 exposure 120 and 20 exposure 220); 90mm EBC Fujinon 5-element lens; minimum focusing distance one meter; No. 0 interlens shutter; 1 to 1/500 sec plus T; f3.5 to f32; built-in lens shade; bubble leveI.
This has been my go-to medium format camera, and pretty much put me off 35mm for two decades. Its companions are a Fuji GSW690III (6x9 cm image, wide angle) and a Fuji GF670 (when I want aperture priority).
Bender 4x5 - the kit for building a 4x5 monorail was available from the 1970's through 2008; I built mine in the late 1990's; front and rear movements; I used a Caltar II-N 150mm lens (Serial No. 10698645) in a Copal No. 0 leaf shutter; 1 to 1/500 sec plus B and T; f5.6 to f64 continuously adjustable.
Building this camera taught me far more about large format than the several books I had read. It quickly became evident that the Bender lacked precision and repeatability in its movements, significantly influencing my next large format purchase.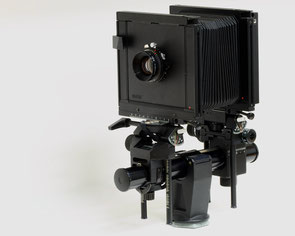 Sinar F1 - made in Feuerthalen, Switzerland from the 1980's through the end of the century; I purchased mine used around 2000; 4x5 monorail; full front and rear movements; base-tilt yaw-free design; built-in depth-of-field and tilt swing calculators; part of extensive modular system.
This was everything the Bender was not. Solid, precise (cumbersome, needlessly complex?). I transferred the Caltar II-N from the Bender and added a used Caltar II-E 210mm (Serial No. 11021323) in a Copal 1 leaf shutter - 1 to 1/400 sec plus B and T, f6.8 to f64 continuously variable. When this is too much camera I sometimes take its little buddy, a Wanderlust Travelwide, instead.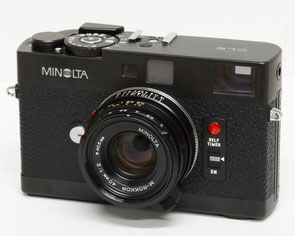 Minolta CLE with Minolta M-Rokkor 40mm lens - made in Japan from 1980 until 1985; purchased used in 2015; upgraded version of the Leica CL from 1973, a joint venture of Minolta and Leica; compatible with nearly all Leica-mount lenses; electronic cloth focal-plane shutter; 1 to 1/1000 sec plus B with +/- 2-stop compensation in half-stop increments; f2 to f16 in half-stop increments; TTL aperture priority metering; minimum focusing distance 2.5 feet; self-timer; 2 S76 batteries (all functions).